Asparagus is a vegetable that we love to taste when spring and sunny days arrive. Consumed alone or with a good salad, asparagus can be paired with a variety of sauces. Find out which sauce to choose for your asparagus.
Asparagus is one of the first vegetables of spring and we love it because it is synonymous with the first rays of the sun. Cold or hot, satatsuri can be served with a variety of delicious sauces. However, some sauces work well with certain cooking methods, such as steamed asparagus.
See also
Find out what sauces go well with asparagus.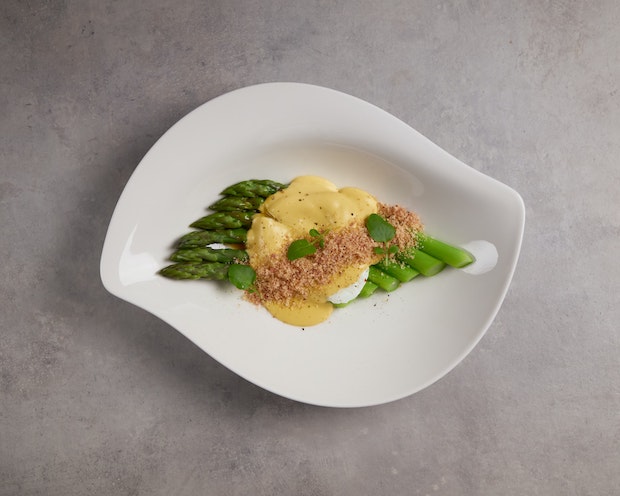 A dish prepared with sattsuri and its sauce. Credit: Unsplash
Sauces for white asparagus
Vinaigrette sauce is essential for white asparagus. Very easy and quick to make, this vinaigrette dressing goes perfectly with your white asparagus. To prepare homemade vinaigrette sauce, you will need:
– 3 tablespoons of olive oil
– 3 tablespoons of cider vinegar
– Salt and pepper
To prepare, you just need to mix all the ingredients, mix vigorously. You can also add crushed boiled egg yolk to make your sauce original and even tastier!
Hollandaise sauce is also a great choice to accompany white asparagus. To prepare hollandaise sauce you will need:
– 25 g of butter
– 1 lemon
– 2 egg yolks
– Salt and pepper
Hollandaise sauce is the sauce most often served with fish, but it also goes well with your asparagus. You can also add lime juice to the recipe.
Sauces for green asparagus
Green asparagus is a delicate vegetable that requires a light sauce. And to accompany the green asparagus, nothing beats muslin sauce! This light sauce for green asparagus is made with traditional mayonnaise, chopped onion, lemon juice to add a little acidity, and beaten egg whites. Eggs will make your sauce "cloudy" and "foamy".
An ultra-easy recipe that's perfect for early spring greens.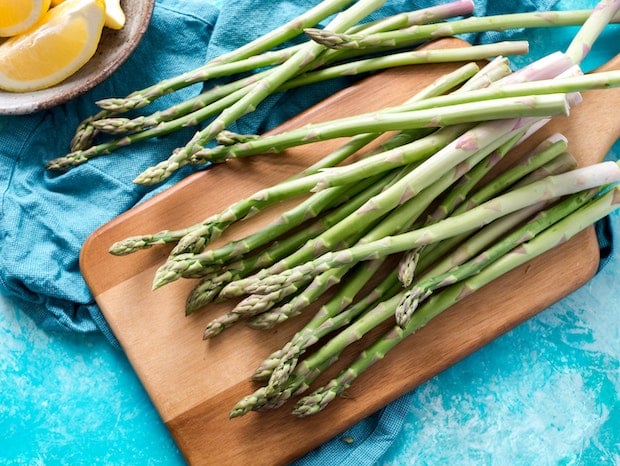 Asparagus can be eaten raw. Credit: Unsplash
Sauces for raw asparagus
Yes, asparagus can be eaten raw! Just chop the asparagus with a mandoline. Green and white asparagus can be eaten raw, obviously the sauce will play an important role in accompanying your vegetable. Moreover, the advantage of green asparagus is that it does not need to be peeled! Raw asparagus can, for example, be included in spring salad recipes to bring originality and freshness.
Hollandaise sauce with raw asparagus is a very good choice. Otherwise, a béarnaise sauce can also accompany the asparagus. And finally, the original sauce for your asparagus, soy sauce! This is a sauce that will give your asparagus a fermented and sweet taste. Perfect for spring!
Sauces for cold asparagus
You don't have to be original to be cold. Homemade mayonnaise goes great with your cold asparagus. Mayonnaise is the emblematic sauce of French cuisine and the French love to eat it.
Do not buy it, homemade mayonnaise tastes much better, you can add ingredients to change it up. To make homemade mayonnaise with your asparagus you will need:
– 1 egg yolk
– 1 tablespoon of mustard
– 10 cl of olive oil
– Salt and pepper
– 2 tablespoons of vinegar
Mix and whisk all the ingredients together and your mayo sauce is ready for your raw white or green asparagus!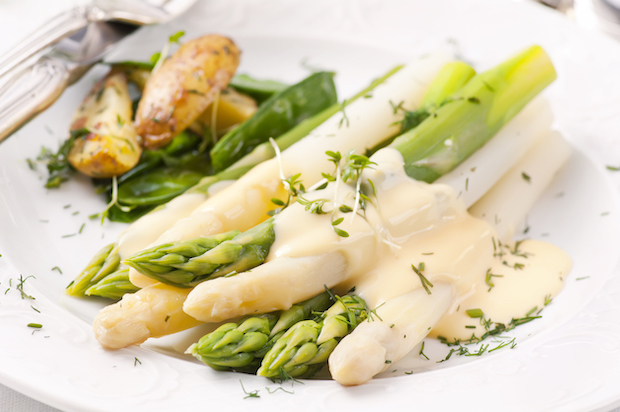 A dish prepared with green asparagus and sauce.
Sauces for hot asparagus
Many sauce recipes are available to accompany hot asparagus. Since asparagus is a spring vegetable, bet on a light and fresh sauce. White cottage cheese sauce is a simple but delicious recipe that will add flavor to your asparagus.
To prepare this sauce, you only need a few onions, 1 tablespoon of lemon juice, fresh cream and an egg yolk. Mix everything together, add salt and pepper, let it sit for 5 minutes on low heat and you're done! It is enough to taste your spring asparagus with its delicious white sauce with cottage cheese.
Subscribe to the Demotivator newsletter!
By entering your email address, you agree to receive our newsletter