November 12, 2022 by Jordan Romevo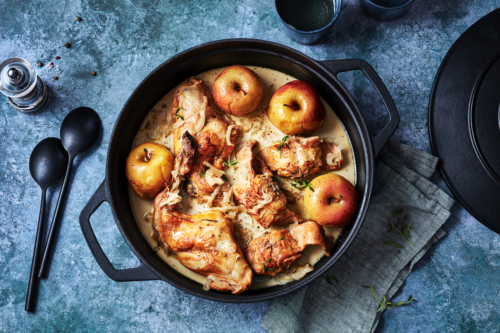 Rabbit with cider.
© Gulfstream
A quintessential fall dish, rabbit makes for a bold meal and pairs well with all sauces. Dare to remix a great kitchen classic, as here the association of rabbit with apple and cider.
Preparation time : 10 minutes
cooking time : 45 minutes
ingredients
3 rabbit legs and 3 saddles
6 apples
75 cl raw cider
2 pink onions
4 tbsp. New cream
A few sprigs of thyme and rosemary
1 small cup Calvados (optional)
2 tbsp. olive oil
Salt
Pepper
Preparation
Peel, chop and thinly slice the pink onion into rings.
Pour olive oil into a cast iron pan and fry the onion rings for 4-5 minutes. Place the pieces of rabbit and fry on all sides.
Pour cider into a pot, add aromatic herbs and cook covered for 40 minutes. Turn the slices halfway through the cooking process.
Wash the apple. 10 minutes after the start of cooking, put the whole apple in the pot and continue cooking for 30-35 minutes. Keep the apple and rabbit pieces.
Add fresh cream to the pan. Bring to a boil, reduce the heat and reduce the sauce for a few minutes.
Place the rabbit's legs and saddles in the pot, sprinkle with fresh onions before serving. Enjoy your rabbit with cider and apples right away!
Enjoy your lunch!