The new Neapolitan flavored Oreos will make you happy three times because they simply consist of not one, but three different layers of creme! All this between two waffle biscuits for maximum enjoyment.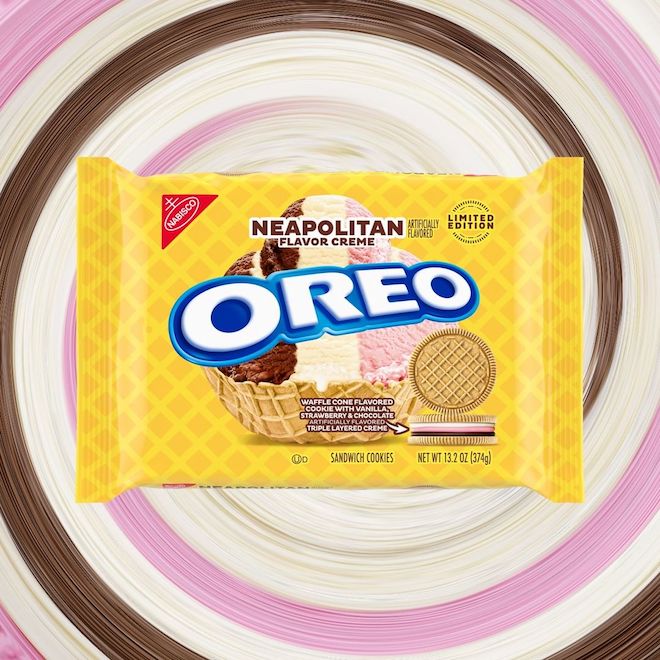 Discover the new Neapolitan Oreo with three layers of cream and waffle cake! Credit: Oreo
See also
And another version for Oreo! As you already know, Oreo hates routine and releases new recipes on a very regular basis to keep our gourmand taste buds tickling with delight. Mocha Caramel Latte flavors, Salted Butter Caramel Brownies, s'mores… for a brand belonging to the Nabisco Group, indulgence really knows no bounds! And by this summer, finally, a new nugget is born. Directly inspired by the "Neapolitan piece", the new Oreo is an explosion of flavors!
If you don't know the Neapolitan piece, called Neapolitan ice cream by our neighbors across the Atlantic Ocean, it is simply a dessert consisting of three ice creams (vanilla, strawberry and chocolate) arranged in alternating layers. And to celebrate the arrival of sunny days, Oreo brings you to Naples with its new cookie Neapolitan Oreos! Another novelty for this gourmet recipe: the cookies will not be the famous cookies that made the brand famous, but small wafer cakes, like ice cream cones. It makes us salivate in advance…
Triple the indulgence for new Oreo cookies!
A limited edition Neapolitan Oreo has just hit the market for a very gourmet summer. in the menu? Three layers of cream between two biscuits! Yes, yes, you read that right: three layers of cream. One with vanilla, another with strawberry and the last with chocolate, obviously to get the Neapolitan piece codes. But unlike Neapolitan ice cream, in this new recipe the different layers of cream will not be frozen. If you want Oreo ice cream, you'll have to go for the frosted collection launched by the brand in March.
As for the cookies, don't expect traditional chocolate Oreo cookies. For this new recipe, the brand decided to replace them with waffle-type biscuits! But we are sure that they will be as tasty as classic cookies.
This new unique package, which Oreo published on its social networks on June 15, is already available in some supermarkets in the United States at a price of 4.79 USD (ie 4.55 euros). Unfortunately, no marketing is planned for France…but we're keeping our fingers crossed! And for those lucky enough to be heading to the US this summer, know that the Neapolitan Oreos will sell out while supplies last, so hurry!
Subscribe to the Demotivator newsletter!
By entering your email address, you agree to receive our newsletter