His fried chicken nuggets dipped in blue chocolate mint sauce? Yes, it's possible: KFC did it. There is no limit to originality…
KFC launches chocolate mint sauce! Credit: KFC
See also
Do you love sauces too? From the classic team (ketchup, mayo, barbecue…) to the spicy team of the original team, everyone loves sauces! In fact, let's be honest, it might even be what we prefer when we eat fried chicken. The (not)guilty pleasure of dipping our chicken nuggets into the creamy and rich sauce has us licking our fingers just thinking about it…
Either way, the original team has reason to be happy about this news. KFC restaurants, specializing in fried chicken, have come up with a new recipe that is quite special, but already looks like a hit. In its little turquoise blue jar, discover the sauce… Chocolate Mint! Yes, it's good for tenderizing your roast chicken, not for dessert flavoring. We really saw it all…
KFC introduces Chocolate Mint Flavored Blue Sauce for… Fried Chicken
And according to the first feedback, it's even great! The "rich and sweet" chocolate pairs beautifully with the "fresh mint" and fried chicken for an explosion in your mouth. If we didn't doubt the combination of mint and chocolate for a second (and we love it), it's the fried chicken mix that has us worried… but South Korea-based KFC restaurants have actually released this new sauce. Limited quantities until August 8.
If you are planning a trip to South Korea, this sauce is definitely not to be missed. Does its turquoise color (gives you a little shimmer) and slightly "sticky" texture make you want it? Frankly, we choose to eat something blue, we prefer ice cream to pasty…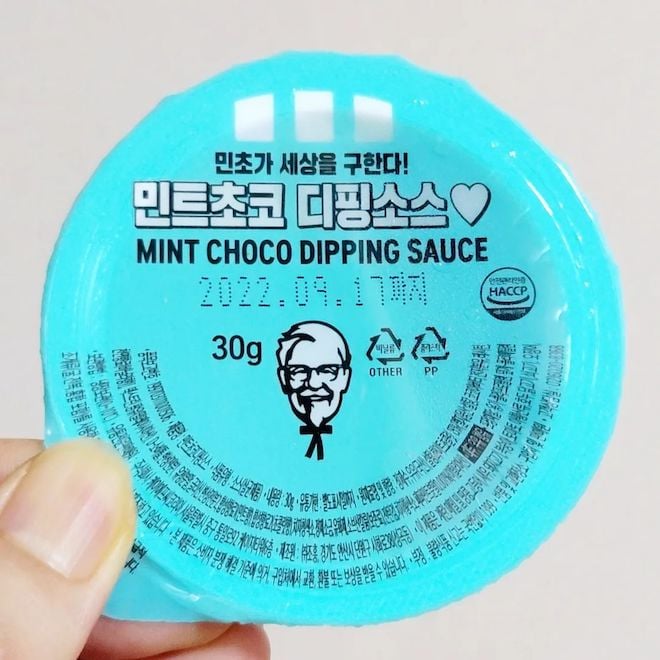 Do you dare to use chocolate mint sauce on your fried chicken tenders? Credit: Instagram KFC
Subscribe to the Demotivator newsletter!
By entering your email address, you agree to receive our newsletter